Automotive Manufacturing
MetaTec Soutions works directly with major automotive manufacturers and OEMs around the world, developing powerful solutions to their most pressing conveyance challenges. With MetaTec Soutions and patented technologies, we offer customized solutions that allow our customers to achieve their goals and reduce costs. MetaTec Soutions quality innovations are proven to increase worker morale, allowing manufacturers to reach their peak productivity.


• General Assembly
• Final Assembly and Inspection
• Tire and Wheel Assembly


• Body Shop / Paint Shop
---
Batteries
MetaTec Soutions the Battery industry with the most comprehensive service and global support, which is why we guarantee not only the delivery but also the belt performance in writing. MetaTec Soutions belts are manufactured from plastics that will resist chemical attack from common Battery industry fluids. In fact, Intralox belts have proven to last twice as long as rollers in battery facility applications.

---
Car Care and Wash
When used in car wash tunnels and express vehicle detailing, MetaTec Soutions can help car wash owners improve line efficiency, reduce operational costs and improve worker safety.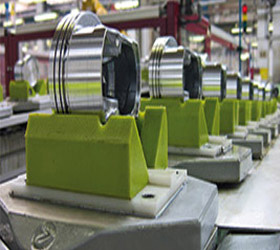 Request A Quote